She-Hulk Fantastic Four
Finally, I got around to finishing these two She Hulk's.
I decided to make two variations of her costume. The first one inspired from when she temporarily replaced The Thing as a member Fantastic Four.
The other, and probably one of her more recognisable costumes being the purple and white, in which she wore variations throughout her solo and Avengers comic runs.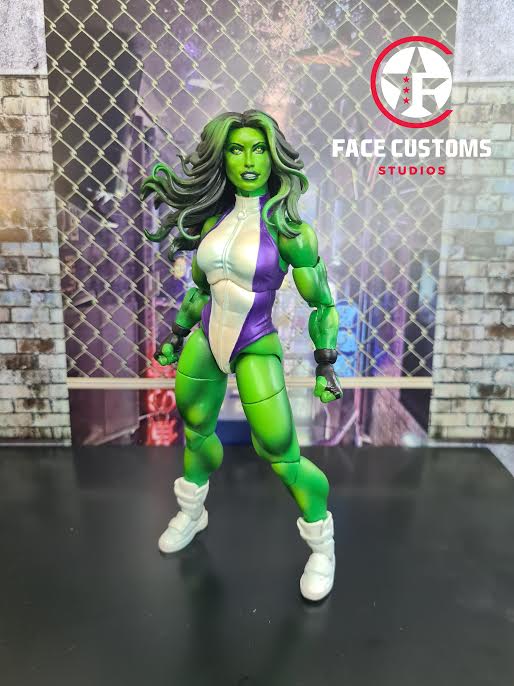 Jen Walters is quite an interesting character, a lawyer by day and a crime fighting super heroin, "well" by day! She is also the cousin of, yes you guessed right, the Incredible Hulk Bruce Banner himself!
After an emergency blood transfusion by the aforementioned Bruce, she originally acquired a somewhat milder version of his Hulk abilities. However unlike The Hulk, she was able to retain her personality and intelligence. In recent years She-Hulk has had a bit of a power upgrade and gone full HulkSmash like her cousin!
The character first appeared in American comic books published by Marvel Comics. She-Hulk was created by Stan Lee and artist John Buascema. She is one of the few Marvel characters that has often broken the fourth wall, talking directly to the reader. She-Hulk had her own series 'Savage She-Hulk' that lasted until around 1982. She then went on to join the Avengers.
Her appearances in Avengers were drawn by John Bryne who later created her solo series 'The Sensational She-Hulk' .
This ran for 60 issues which was actually the longest running title of any Marvel superheroin, up to that point. After a few more successful solo runs by Dan Slott, Juan Bobillo and later Peter David, She-Hulk continued to pop up in animated cartoons, before once again rejoining The Avengers. She currently resides in Mighty Avengers as a more Bulked up Hulk version, similar to her cousin.
But wait, there's more!
She-Hulk is finally after all these years going to be starring in her very own live action tv series.
This is scheduled for release on
Disney+
in 2022, as part of Marvel phase 4 starring Tatiana Maslany, who starred in the amazing TV series Orphan Black.
You can take a look at Face Customs work here. You can also find him on Facebook, Twitter, and Instagram.